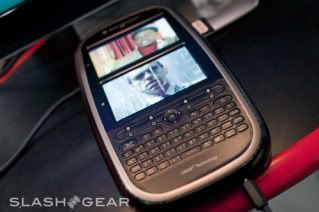 It's been a long, long while since we've seen any life from the OMAP4 labs at Texas Instruments, but with the sudden resurgence of the tablet, now seems just about right for the company to start showcasing the platform's prowess once more. TI is expected to have a mind-bending showcase at Mobile World Congress later this month, but Slashgear was able to get a sneak peek at what's to come at the outfit's Dallas office. The device you're peering at above definitely piqued our interest, as it's some sort of twin-screened handheld that can actually support a third independent display courtesy of an integrated pico projector module. We're told that OMAP4 will bring along dual 1GHz ARM A9 cores, patently ridiculous battery life figures (145 hours of MP3 playback with a 1,000mAh battery) and support for 1080p output via HDMI. Naturally, TI has no intention of ever bringing this piece of hardware to market, but it'd certainly love if some other firm stepped in and did so. Here's hoping we're overrun by potential suitors in Barcelona – given that the show kicks off on Valentine's Day, we'd say the timing would be just about perfect.
Share on Facebook
---
---
Tags: arm, Chip, e ink, EInk, liquidvista, mobile world congress, mobile world congress 2010, MobileWorldCongress, MobileWorldCongress2010, mwc, mwc 2010, Mwc2010, omap, OMAP 3, OMAP 4, OMAP3, OMAP4, pico projector, PicoProjector, pixel qi, PixelQi, platform, prototype, texas instruments, TexasInstruments, ti
Filed Under
Mobile Phone
. Follow to this entry through the
RSS 2.0
feed.