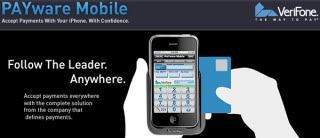 Sure, it's not quite as elegant as a little cube jutting out of one corner of the iPhone à la Square, but it looks like the Payware Mobile could certainly double as a pretty sturdy case should it drop. More importantly, the backing of VeriFone means this mobile payment peripheral has some pretty important backing and should be able to hit the ground running. That magical date should be January 15th of next year, free on a 2-year Payware Connect contract, and pre-orders are now live on the website for those who want to join in on the phone. Just one word of advice: when you hand the iPhone over for someone to sign as proof of purchase, make sure you're able to outrun the chap. Just in case.
Share on Facebook
---
---
Tags: iphone, ipod touch, mobile payment, mobile payments, MobilePayment, MobilePayments, pay ware, pay ware connect, pay ware mobile, PayWare, PayWareConnect, PayWareMobile, peripheral, veri fone, VeriFone
Filed Under
Mobile Phone
. Follow to this entry through the
RSS 2.0
feed.