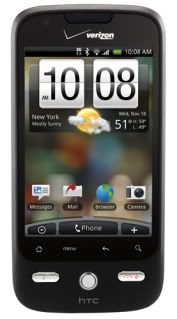 Verizon is making no secret about which Android device it wants to make waves this week — that'd be the DROID from Motorola – but there's another model that'll be available the same day with one-tenth the fanfare: HTC's DROID ERIS. Codenamed Desire ahead of launch, the phone is essentially Verizon's custom remix of the venerable Hero as found on Sprint and various GSM carriers around the world, featuring a 5 megapixel camera, 3.2-inch capacitive display, WiFi, 3.5mm headphone jack, and microSD expansion up to 16GB. Check it out in your local store hiding somewhere in the shadow of the DROID starting Friday for $99.99 on contract after a $100 mail-in rebate, which — if you can forgo a physical keyboard, faster processor, and high-res display — works out to a cool hundred less than Moto's entry.
Share on Facebook
---
---
Tags: Android, breaking news, BreakingNews, desire, droid, droid eris, DroidEris, htc, verizon, verizon wireless, VerizonWireless, vzw
Filed Under
Mobile Phone
. Follow to this entry through the
RSS 2.0
feed.