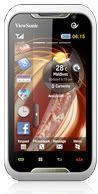 In just one week, ViewSonic has gone from a glint of a 3G phone maker to having two models prominently on display. We've already seen VPC08 Windows XP phone, and now up to bat is the V901, found in the pages of Microsoft China's official site. The Windows Mobile 6.5, apparently TouchWiz-skinned device has a 3.6-inch, 480 x 800 touchscreen, a Marvell PXA310 processor, 128MB RAM and 256MB ROM storage with microSD expansion, 5 megapixel camera, GPS, Bluetooth, all hailing to the wavelengths we call CDMA EV-DO Rev. A. Launch is Q4 2009, so sometime very soon — but we get the feeling this is China-only, at least for now.
Share on Facebook
---
---
Tags: 6.5 L100, 6.5L100, cdma ev-do rev a, cdma evdo rev a, CdmaEv-doRevA, CdmaEvdoRevA, china, Microsoft, microsoft china, MicrosoftChina, touch wiz, touch wiz ui, touchwiz, TouchWizUi, v901, view sonic, viewsonic, viewsonic v901, ViewsonicV901, win mo 6.5, Windows Media Center, Windows Mobile 5, WindowsMediaCenter, WindowsMobile5, Winmo6.5
Filed Under
Mobile Phone
. Follow to this entry through the
RSS 2.0
feed.