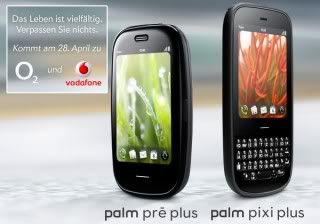 Palm's news activity doesn't look like abating any time soon, as the company has just made the Deutsch arrival date for its Plus-ified phones official as April 28. It matches earlier speculation about late April, but also — very importantly — introduces a new carrier options for our Teutonic brethren in the form of Vodafone. Formerly locked in with Telefonica (whose local representative is O2), Palm seems to have finally noticed the error of its ways and has offered choice as a side dish to its delectable WebOS main course. So, dont think about the owner of the company, just think about the phone you will be owning.
Share on Facebook
---
---
Tags: germany, o2, o2 germany, O2Germany, palm, palm pixi, palm pixi plus, palm pre, palm pre plus, PalmPixi, PalmPixiPlus, PalmPre, PalmPrePlus, pixi, pixi plus, PixiPlus, pre, pre plus, PrePlus, vodafone, vodafone germany, VodafoneGermany
Filed Under
Mobile Phone
. Follow to this entry through the
RSS 2.0
feed.