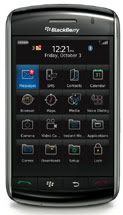 We're onto you, Wally World. Granted, you already confessed that you'd be dishing out a deal a week until sometime in the future, but hey, we'll feign surprise without thinking twice. Next week's bargain is a good one for those in the market for one of RIM's handsets, as Walmart shoppers will be given a $100 gift card (to Walmart, obviously) if they purchase practically any BlackBerry phone on a 2-year contract from AT&T, Sprint, T-Mobile or Verizon Wireless. The offer begins at 8AM local time this Saturday and runs through November 20th, and if you're looking to see exactly which handsets are included in the deal, have a look past the break.
* AT&T Curve 8310
* AT&T Bold 9000
* Sprint Curve 8330 (Red & Titanium colors)
* T-Mobile 8520 (Black, White, and Frost)
* T-Mobile Pearl 8120 (Emerald)
* Verizon Storm
* Verizon Storm II
Share on Facebook
---
---
Tags: Blackberry, discount, gift card, GiftCard, holidays, holidaze, rim, sale, savings, smartphone, wal-mart, walmart
Filed Under
Mobile Phone
. Follow to this entry through the
RSS 2.0
feed.