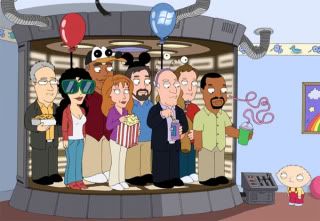 Of all Microsoft's advertising moves, this certainly falls in more clever side of the spectrum. Redmond et al. have announced they'll be "sponsoring" a November 8th variety special on Fox, "Family Guy Presents: Seth & Alex's Almost Live Comedy Show." The episode'll be a mix of live-action musical performance and animated shorts with the usual celebrity cameos you've come to expect. This show will be commercial free, so long as you don't count all the Windows 7 that'll somehow be integrated — and that's the most interesting mystery of all, how Microsoft will get its brand recognition without too many jabs from showrunner Seth McFarlane and company. If you don't recall the last time McFarlane teamed up with a big company to enliven its image, check out video from "Burger King presents Seth MacFarlane's Cavalcade of Cartoon Comedy," a venture also done in tandem with one of the ad agencies responsible for this new deal, Crispin, Porter & Bogusky.
Update: As commenter Zebb reminded us, Bill Gates pulled off a cameo in Frasier "answering caller questions" about Windows XP. We couldn't help but add it to the post just below, jump to the 2:20 mark for the relevant scene.
Share on Facebook
---
---
Tags: ad, ads, advertisement, advertising, family guy, FamilyGuy, mc farlane, McFarlane, Microsoft, seth, seth mcfarlane, SethMcfarlane, windows, windows 7, Windows7
Filed Under
Mobile Phone
. Follow to this entry through the
RSS 2.0
feed.