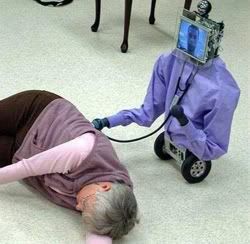 Well, it doesn't have a Roomba that will check up on your vitals just yet, but it looks like iRobot is betting on healthcare robotics in a fairly big way, with it taking advantage of the recent TEDMED conference to announce that it's forming a new business unit focused solely on the still burgeoning industry. That unit will be headed up by Tod Loofbourrow, who says that he believes the business "has the potential to make a significant difference in the field of healthcare," and adds that he thinks "the long-term potential of robotics to extend independent living is profound." While he's just as light on specifics, iRobot CEO Colin Angle is no less ambitious about the company's goals, saying that iRobot's "healthcare mission is add a million years of independent living to our customers." And in case you're wondering, the image at right isn't an iRobot robot, but it is all too real.
Share on Facebook
---
---
Tags: healthcare, healthcare robot, healthcare robotics, healthcare robots, HealthcareRobot, HealthcareRobotics, HealthcareRobots, iRobot, medial robots, MedialRobots, medical, medical robot, MedicalRobot, robot, Robots, tod loofburrow, TodLoofburrow
Filed Under
Security
. Follow to this entry through the
RSS 2.0
feed.