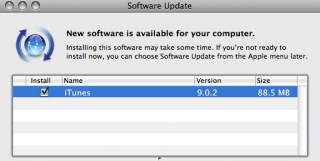 First comes the Apple TV 3.0 update, and next comes the iTunes update to make the two play nice. It's a beautiful thing, we tell ya. As of right now, iTunes 9.0.2 is available via Software Update, and with that comes compatibility with Apple TV 3.0, an "improved look and feel," and an easier-to-explore iTunes Store. Hop on past the break for the full changelog, and feel free to get your download on now if you're still not scared of blindly installing software from Cupertino.
Update: Looks like it killed Pre sync — now, act like you're surprised!
iTunes 9.0.2 adds support for Apple TV software version 3.0, adds an option for a dark background for Grid View, and improves support for accessibility.
iTunes 9 comes with many new features and improvements, including:
• An improved look and feel, including a new Column Browser for easily browsing your artists or albums, movies, TV shows, and more.
• iTunes Store has a brand new look, with improved navigation for quick and easy exploration.
• iTunes LP and iTunes Extras create unique experiences that feature exclusive interviews, videos, photos, and more – available with select album and movie purchases on the iTunes Store.
• Home Sharing helps you manage your family's iTunes collection between computers in your home. iTunes can automatically transfer new purchases, or you can choose just the items you want.
• Genius Mixes are created for you by iTunes and play songs from your library that go great together.
• iPod and iPhone syncing now allows you to organize your iPhone and iPod touch home screens directly in iTunes. Syncing is now also more flexible, allowing you to sync individual artists, genres, or TV show and Podcast episodes.
• iTunes U items are now organized into their own section in your iTunes library.
• Sync with iPod nano (5th generation), iPod classic (Fall 2009), and iPod touch (Fall 2009).
• iTunes 9 also includes many other improvements, such as HE-AAC encoding and playback, more flexibility with Smart Playlists rules, simpler organization of your media files inside an iTunes Media folder, and more.
Share on Facebook
---
---
Tags: Apple, apple itunes, apple tv, AppleItunes, AppleTv, download, firmware, itunes, itunes lp, ItunesLp, mac, os x, os x 10 6, OsX, OsX10.6, software, software update, SoftwareUpdate, update
Filed Under
Software
. Follow to this entry through the
RSS 2.0
feed.