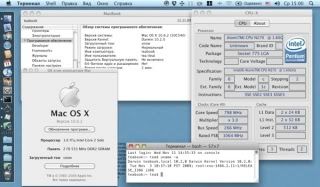 No bonus points for calling this one, but it looks like Atom support has returned to Mac OS X 10.6.2 — less than two weeks after it was unceremoniously removed to the dismay of hackintoshers. Of course, this new "fix" doesn't come courtesy of Apple, and it does take the art of hackintoshing to some risky new levels. Developed by a member of the InsanelyMac forum, the hack is actually a full-on replacement kernel for OS X, which means it will require a good bit of fine tuning to get installed, and some considerable faith in the developer on your part. It does seem like quite a few trailblazers are happy with it, however, so hit up the links below if you're ready to take the plunge.
Share on Facebook
---
---
Tags: 10.6.2, atom, hack, hackintosh, hackintoshing, os x, os x 10.6.2, OsX, OsX10.6.2, snow leopard, SnowLeopard
Filed Under
Software
,
Tips and Tricks
. Follow to this entry through the
RSS 2.0
feed.